Our special tea now available on line
https://www.eiji-miyamoto.com/
Our product
No.1 First flush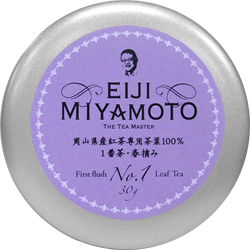 The First flush, picked in spring of 2019, is now available!
The distinctive aroma stands out most in this year's first picked No.1 First flush. You can enjoy this aroma rich flavour if steamed for 5 mins throughly.
Do try this spring's finest No.1 First flush.
The First flush is made of the first picked tea leaves in spring. The new buds of our tea plants start growing in the warm early spring after overcoming the severe winter dormancy.
The tea made of these newly picked buds and leaves are called "First flush".
This light coloured tea is most suitable to have as black tea. The flowery flavour wraps you up comfortably.
No.2 Second flush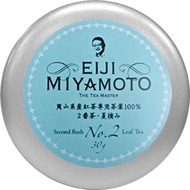 The Second flush is made of the leaves picked in July, before the heat gets serious.
The tea leaves raised by big grown tea trees that received full blessing of sun, water and soil are completed as most substantial tea with beautiful amber colour.
No.3 Autumn flush
The season when refreshing wind starts blowing, the temperature drops and the air gets dry, new tea leaves with special colour and fragrant are born.
The crimson florid colour is just like the red dragonflies flying around our tea plantation.
Please enjoy its light, flowery flavour having it as black tea.
No.4 Straight Blend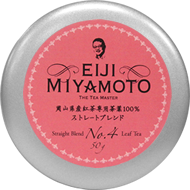 We have processed this tea which has been conveyed to be favoured by British upper class while reviving the traditional tea production skill.
No.4 which is fragrant rich but less astringency can be enjoyed as black tea.
Being conscious of Japanese food culture, you could enjoy the fragrance of lightly brewed tea in the afternoon and have it little stronger for a meal which matches regardless of meat or fish dish.
No.5 Milk Tea Blend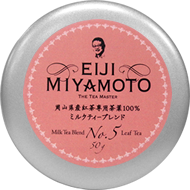 It has deep, dark colour and quality of astringency that tea itself has originally. This is the tea finished up with strong impression of traditional English tea.
There used to be a habit called "early morning tea", a husband brings a cup of hot tea with milk for his loving wife to her bedside back in the day.
Add plenty of milk and sugar then indulge yourself in precious teatime by British style.
No.6 flavored Tea アールグレイ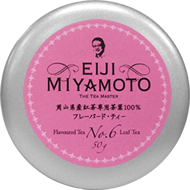 This is the Earl Grey harmonized with the flavour of bergamot orange.
EIJI MIYAMOTO No.6 Flavoured Tea made at Early Morning tea plantation uses no aroma chemicals.
We have processed harvested bergamot orange therefore blended with tea.
Refreshing flavour and acidity is pleasant.
Recommended to add some sugar which makes it more enjoyable to drink
No.7 Tea Bag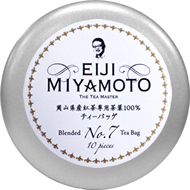 Tea bags are available for you to enjoy Early Morning-made tea at home anytime. No.7 with strong scarlet colour and moderate astringency, it is enjoyable either black or with milk.
The molty taste that reminisces about rich and mellow molt is a work of art created by the landform and weather condition at Early Morning tea plantation.
No.7 アールグレイ Tea Bag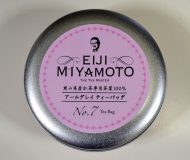 This is the tea bag version of No.6 Earl Grey. All you have to do is to pour hot water into the cup and put a tea bag in it. Anyone can enjoy Earl Grey handy and easily.
No aroma chemical is used. Add some sugar if desired for some sweet-sour flavour and taste to heal your heart.
Enjoy lovely tea time leisurely with our Earl Grey tea bag.